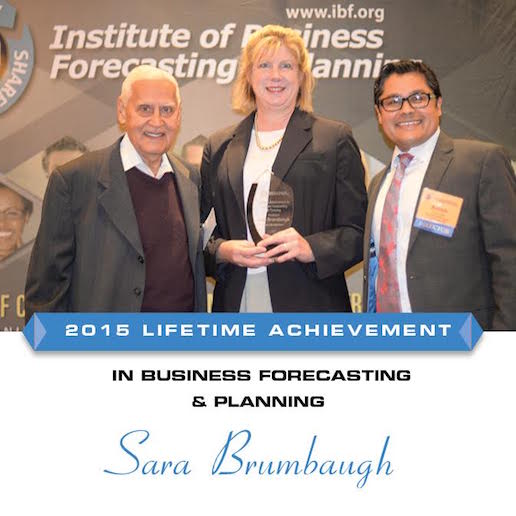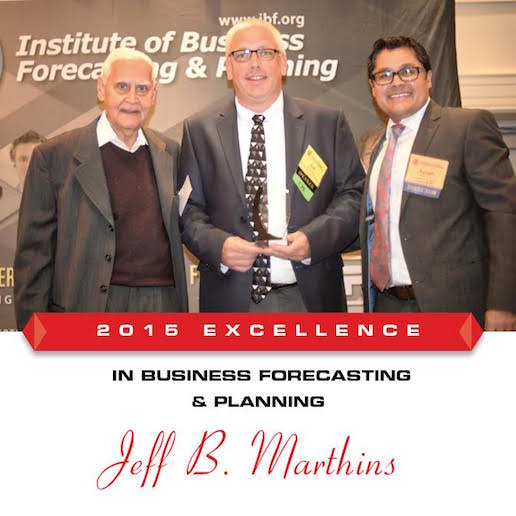 2015 Lifetime achivement Winner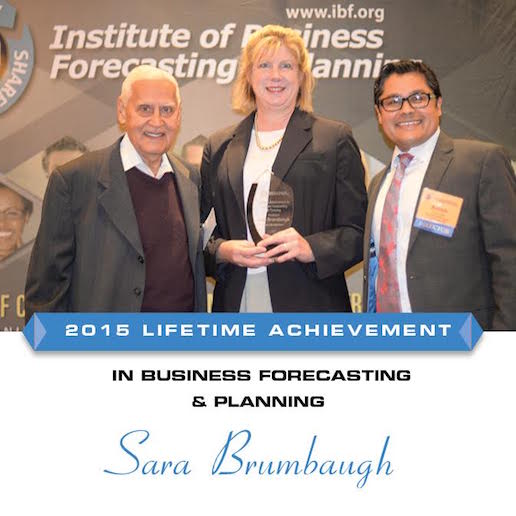 Sara Brumbaugh (Center)
Managing Principal, Ceres Analytics
has been honored as the IBF's 2015 "Lifetime Achievement in Business Forecasting & Planning" recipient for her excellence, professional commitment, and dedication to advancing the field.
Anish Jain, Managing Director, IBF (right) on honoring Sara Brumbaugh:
I am very proud to award Sara Brumbaugh, our first woman to be acknowledge for the IBF award. Whats very compelling and stands out the most is Sara has actually used her skills as a forecaster and applied them to life saving applications. In one of her roles in her career, she used forecasting analytics to help choose the best chemotherapy treatment for cancer patients based on gene expression levels in cancer tumors. Of course, leveraging genes that can predict the recovery probability from cancer is analogous to leveraging leading indicators in business for forecasting sales. She has patents pending for such algorithms which were, in fact, based on the some of the education being delivered at IBF Tutorials over the years. On IBF Tutorials, Sara has been teaching our members on a volunteer basis about advance analytics that forecasters can use to increase forecasting performance. She was a regular instructor at our IBF tutorials for many years. Sara is a prime example that shows how a foundation in forecasting opens up so many doors and opportunities and allows for quite a bit of cross pollination in other functions. To be frank, there are very few out there with such passion and at the same time, extremely selfless in terms of being available to help. It's truly a great pleasure and honor to Award Sara Brumbuagh with IBF's Lifetime Achievement in Business Forecasting & Planning Award.
Sara Brumbaugh on receiving this honor:
I am deeply honored by this award. Thank you, Anish and Dr. Jain, along with the IBF staff and my numerous IBF colleagues. My career has been greatly enhanced by the IBF, which has offered opportunities and long-term professional relationships that were otherwise out-of-reach. About twenty years ago, when I first presented in an IBF conference, I shared a model that automated selection of its predictors. At the time, I had no idea that the model, which gained a following through the IBF forum, would open my gateway to what we now call "data science". There are many things that we can forecast or predict, and ever-evolving methods to do so. We are fortunate, in the forecasting field, to have work that enables us to develop our careers in any direction we choose, with the IBF as an anchor to assure relevance. Looking to the future, I happily anticipate seeing others receive this award, and keeping in touch with both new and established IBF colleagues.
2015 Excellence Winner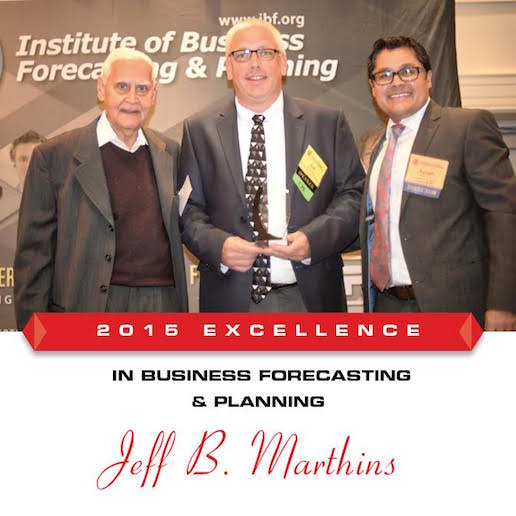 Jeff Marthins (Center)
Director of Supply Chain Operations, Tasty Baking Company/ Flower Foods
has been honored as the IBF's 2015 "Excellence in Business Forecasting & Planning" Award
Alan Milliken, SC Education Specialist at BASF & 2013 Excellence in Business Forecasting & Planning Award Winner (right) on honoring Jeff Marthins:
Jeff was instrumental in creating the demand planning and S&OP processes at Tastykakes and he continues to lead their journey to planning and operational excellence. Currently at his company, Forecasting accuracy is 10% above the average identified via IBF research thanks to Jeff. His comprehensive approach includes talent management, process improvements and building a strong performance management program. Jeff has published in the IBF's Journal of Business Forecasting (JBF), and annually, he teaches at the IBF Academy. Plus, he's a regular speaker at IBF conferences sharing his though leadership. We're proud to honor him with IBF's Excellence in Business Forecasting & Planning Award.
Jeff Marthins on receiving this honor:
I am truly humbled and honored to receive this award. Over the past decade, I have been fortunate enough to be surrounded by the industry's best of the best. These are men and women that I look up to and aspire to be like. Personally, Dr. Jain has taught me so much and pushed me to expand my learnings beyond my comfort zone. It is truly a privilege to share his passion for demand planning and forecasting. Anish, too, shares this passion and has been with me every step of the way. The entire IBF family is comprised of men and women who strive for excellence. The success of the IBF cannot be measured by MAPE or any other statistical measurement. The success of the IBF is developing people in this field beyond their expectations. To be involved with the IBF and carrying out their mission is exciting. To learn, share, and advance has allowed me to grow in this field and always strive to learn, share, and advance more. Receiving this award from my peers is amazing when fellow practitioners have taught me and developed me. So I hope they share in this award with me. Thank you.
Want to nominate? Enter your email: