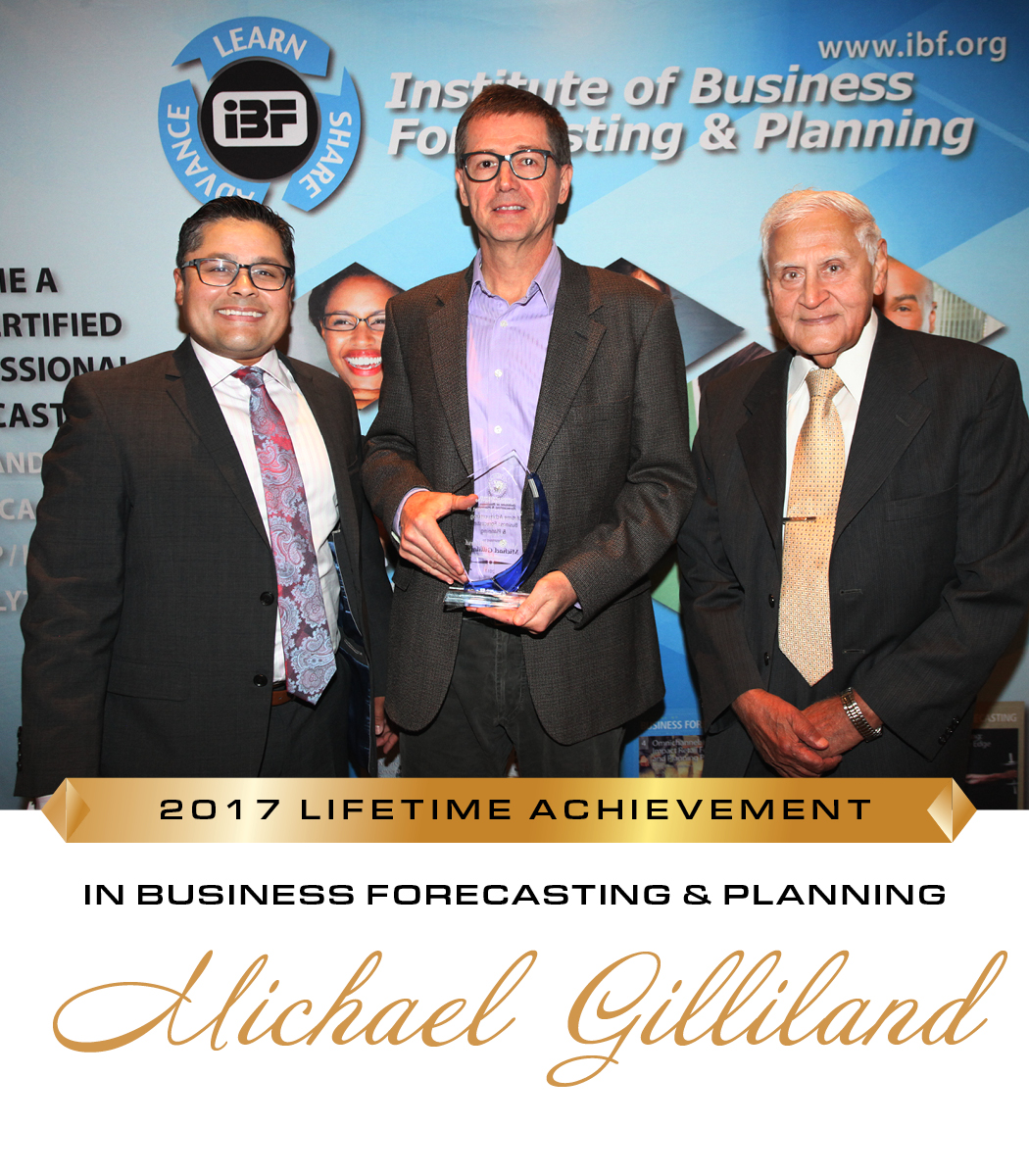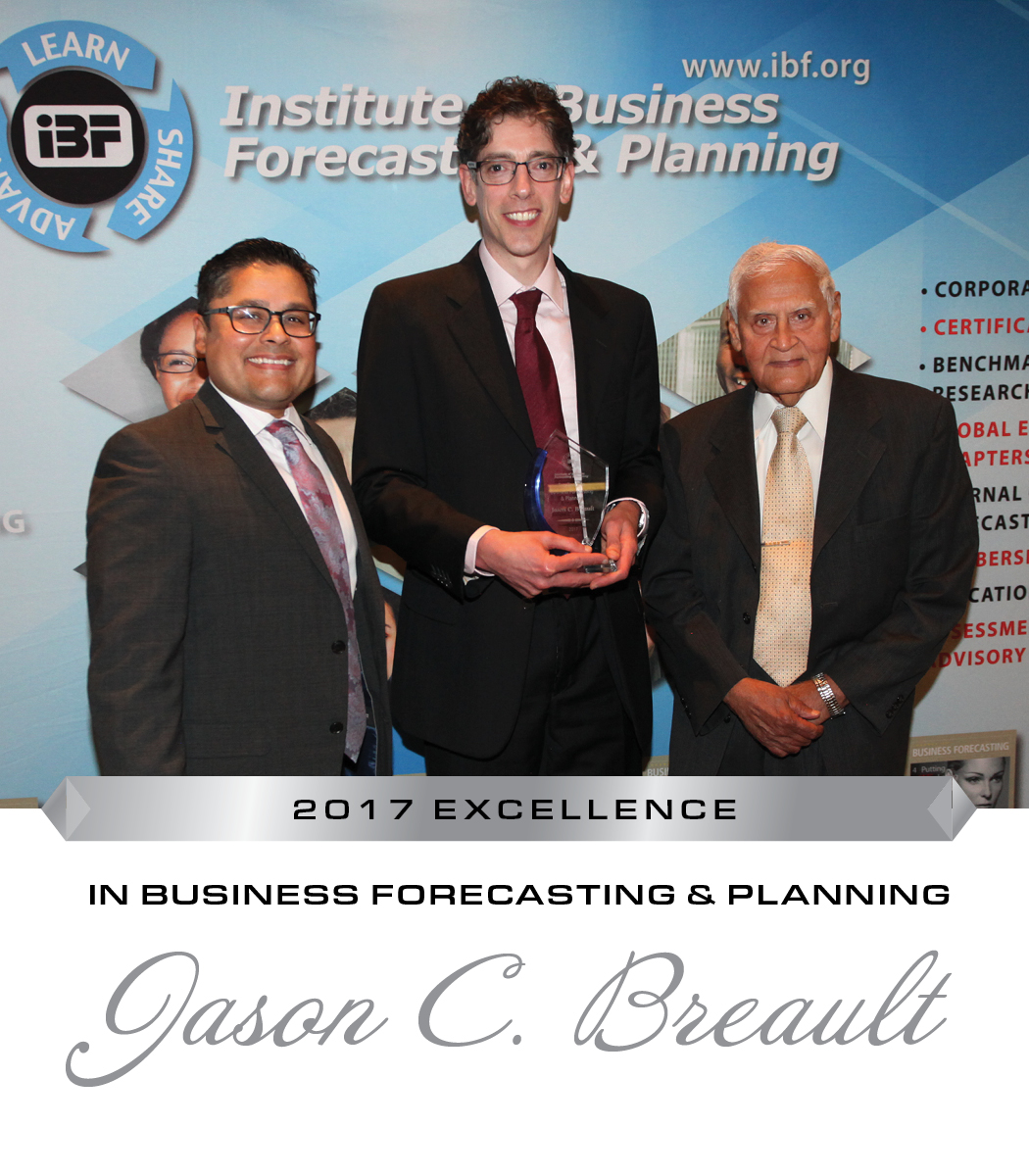 2017 Lifetime achivement Winner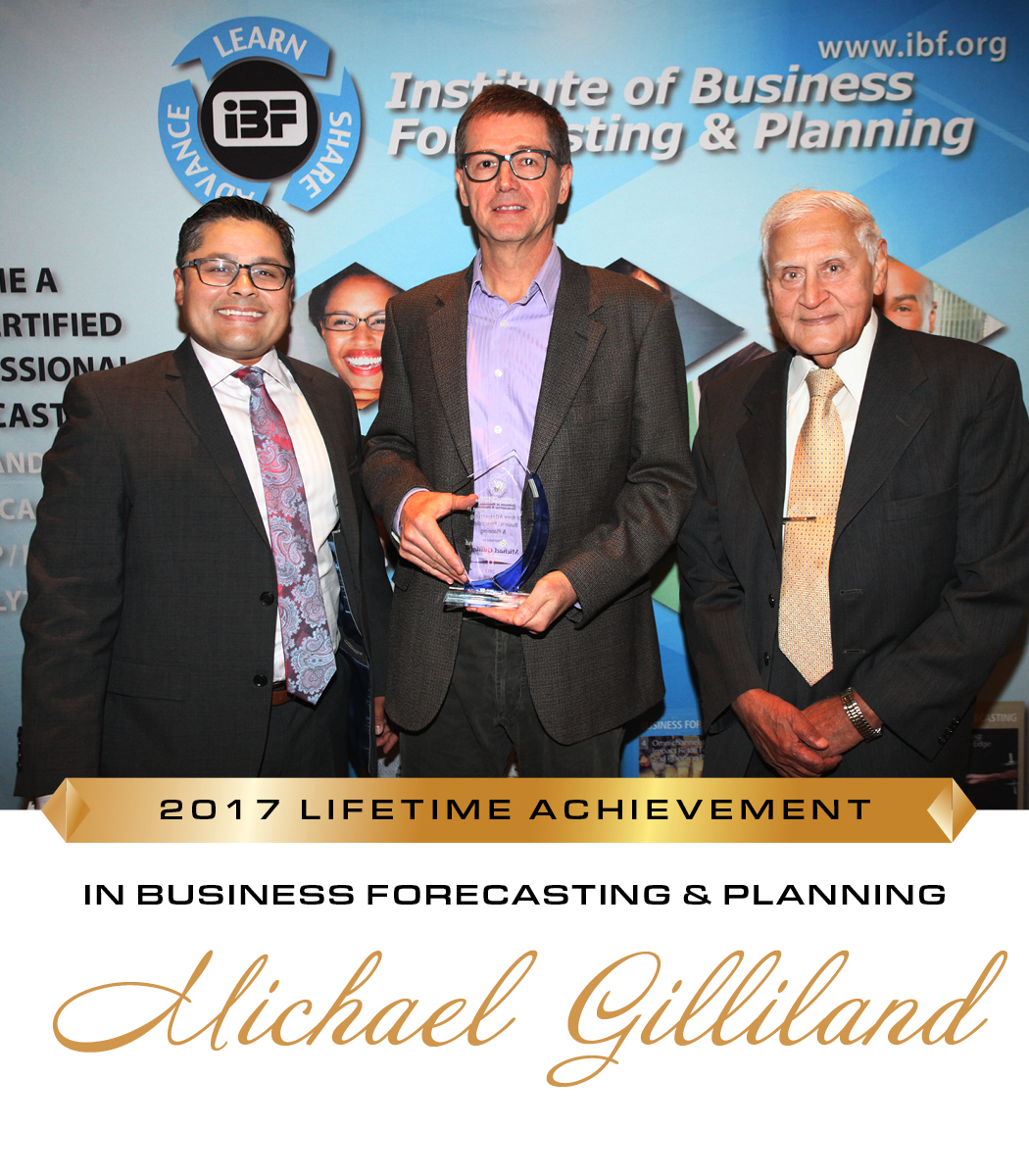 Michael Gilliland (Center)
Product Marketing Manager at SAS Institute
has been honored as the IBF's 2017 "Lifetime Achievement in Business Forecasting & Planning" award winner for his excellence, professional commitment, and dedication to advancing the field.
Anish Jain, Managing Director, IBF (Left) on honoring Michael Gilliland:
"It's an honor to award Michael Gilliland with IBF's Lifetime Achievement award. Michael has been supporting the forecasting community and IBF for many years. He has been and continues to be a significant contributor to the field as well as to the IBF community. He has published many articles in the IBF's Journal of Business Forecasting (JBF), sharing his thought leadership. He is a frequent speaker and teacher at IBF conferences and workshops sharing his passion, knowledge and expertise. Michael has presented in over 20 IBF events and counting. He has written 2 books on the field, "The Business Forecasting Deal" & "Business Forecasting: Practical Problems and Solutions." He has been inspirational in driving the discussion of Worst Practices in Business Forecasting. Furthermore, one of the key contributions that Michael does not get credit for in our space is Forecast Value Add (FVA), a LEAN Forecasting concept. He first introduced this concept at IBF and it has NOW taken a life of its own. His expertise and passion has been an incredible influence on not only the IBF and myself, but the entire forecasting community. It gives me great pleasure and honor to award our 2017 Lifetime Achievement Award in Excellence in Business Forecasting & Planning to Michael Gilliland."
Michael Gilliland on receiving this honor:
"This award means a lot to me, and the IBF has meant a lot to my career. It was through speaking at these events, and writing for Dr. Jain in the Journal of Business Forecasting, that the IBF gave me a platform and a voice. The IBF provided a community of business forecasting practitioners just like me, where I could share my approaches, challenge the orthodoxies, and enjoy the debate with a group of professionals wanting to learn from each other. Thanks to the IBF for nurturing this environment, and thank you for this honor."
2017 Excellence Winner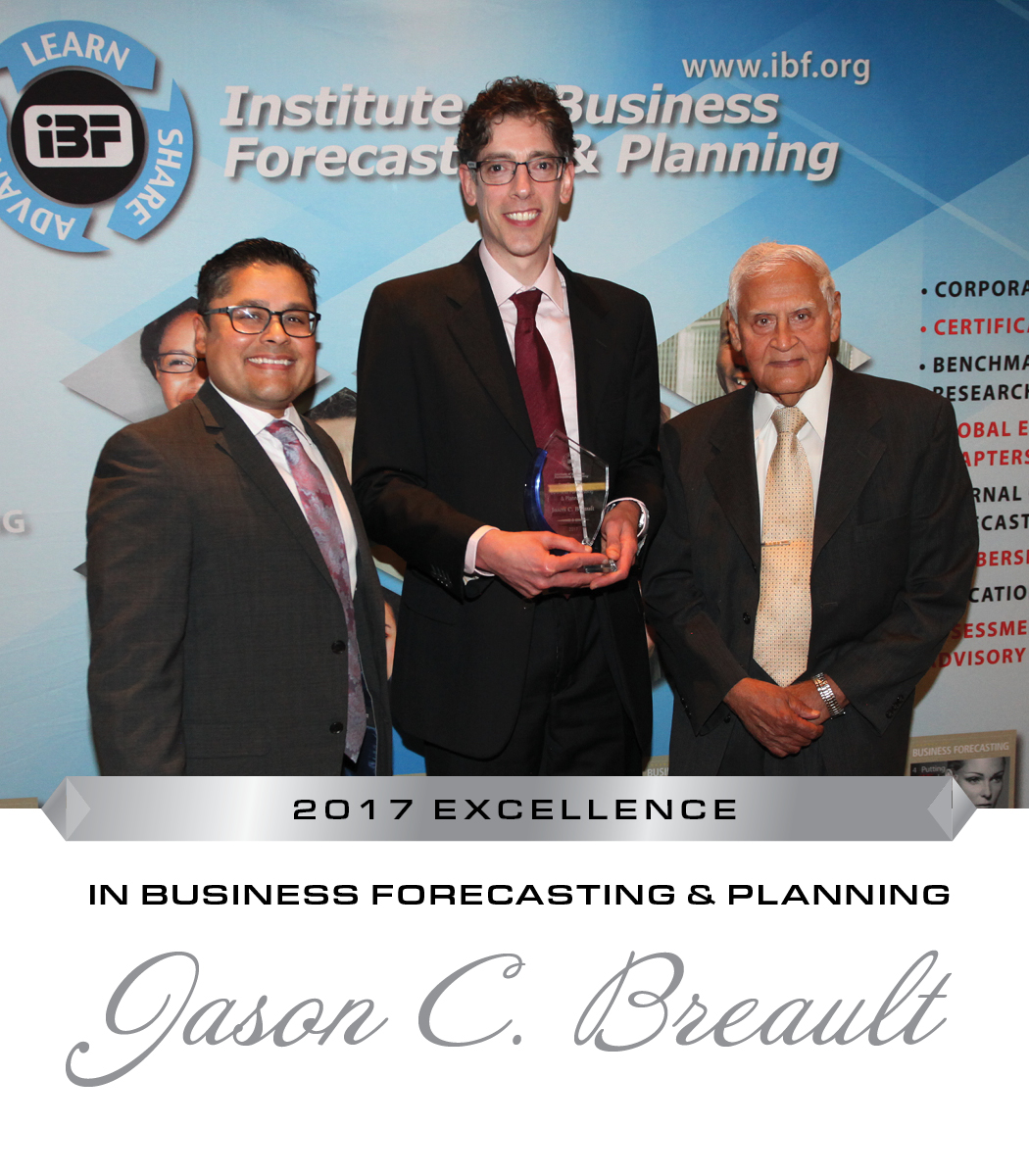 Jason C. Breault (Center)
Managing Director at LifeWork Search
has been honored as the IBF's 2017 "Excellence in Business Forecasting & Planning" Award winner.
Jason Breault on receiving this honor:
"Receiving the IBF's Excellence in Business Forecasting & Planning Award is the highlight of my time in this industry. I am truly blessed to be able to do what I love and be recognized for making a difference in the lives of others. It is an honor to be able to work in parallel with IBF, who has been just as passionate about advancing the industry and the careers of those in the profession for the past 35+ years. Everyone in the planning and forecasting world owes a debt of gratitude to Dr. Jain for what he has built, and Anish for what he has continued to grow. Through the research reports, certification programs and events that are held around the world, IBF is the gold standard and I am humbled to even be considered a small part of that."
Want to nominate? Enter your email: