1. A global-friendly and dynamic 12-module course and certification package.
2. Access the course at your convenience any time, day or night, for up to 6 months.
3. Registration is quick and easy. Once you've registered and paid, you can start your training right away.
4. Take the Certified Professional Forecaster exams and validate your skills with a globally recognized certificate.
eLearning is a convenient, on-demand learning program that allows individuals to access world-leading training in forecasting, planning and S&OP. Developed by the industry's most-renowned experts, it is the most comprehensive training of its kind and is designed to prepare professionals for the forecasting and planning challenges of today and tomorrow. Culminating with the Certified Professional Forecaster (CPF) exams, there is no better way to develop and validate your skills. CPF certification and the skills you acquire make you highly marketable, with many certified professionals saying it has facilitated career progression.

Who Is eLearning For?
Individuals in forecasting, supply chain, demand planning, S&OP, FP&A, and commercial functions looking to build or improve their process knowledge and technical skill set in the field
Corporate teams in forecasting, demand planning, S&OP and more looking to standardize knowledge with best practices
Leaders in demand planning and forecasting responsible for the demand planning function and S&OP process
Directors looking to build the forecasting and planning capability, while learning best practices to initiate at the organization
How Will It Help?
Improve forecast accuracy and reduce waste
Improve key KPIs like inventory turns, cash flow, EBITDA, customer service and more
Ensure customers get the products they want, when they want them
Gain knowledge on an effective forecasting and planning process and drive transformational change at the company
Prepare to become an IBF Certified Professional Forecaster (CPF)
Get on the path to becoming data driven by building a technical toolkit of the most effective forecasting analytics and best practices in data management
Become a cross-functional and collaborative business partner driving better S&OP and external processes such as CPFR
Implement practical, real-world skills and knowledge gained in your organization straight away
$2500
Member's discount: -$100
eLearning + Book + Membership
$2750
Member's discount: -$100
eLearning + Book + Certification
$3500
Member's discount: -$250
Most Popular:
eLearning + Book + Certification + Membership
$3750
Member's discount: -$250
| On-demand access to all 12 training modules for 6 months | The course textbook, Fundamentals of Demand Planning & Forecasting (free shipping) | IBF Membership for 12 months | Certified Professional Forecaster (CPF) exams |
| --- | --- | --- | --- |
| | | | |
| | | | |
| | | | |
| | | | |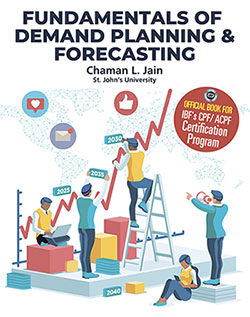 Module 1: Fundamentals of Business Forecasting & Planning
Module 2: The Forecasting Process & The Roles Of Cross-Functional Team Members
Module 3: Consensus Forecasting & The Communication Process
Module 4: S&OP Driving Business Value
Module 5: External Collaboration & CPFR
Module 6: Data Management
Module 7: Performance Metrics
Module 8: Selecting & Applying Forecasting Models
Module 9: Averaging Models
Module 10: Trending, Seasonal & Cyclical Models
Module 11: Exponential Smoothing Models
Module 12: Other Forecasting Models
We also offer Public Live Online Training twice a year. Plus, we also offer Onsite as well as Virtual Boot Camps on S&OP, Forecasting, Predictive Analytics, and Supply Chain Planning throughout the year. Click
HERE
for more information on our upcoming public
TRAINING EVENTS
.
TRAINING EVENTS
Subscribe to Our Newsletter