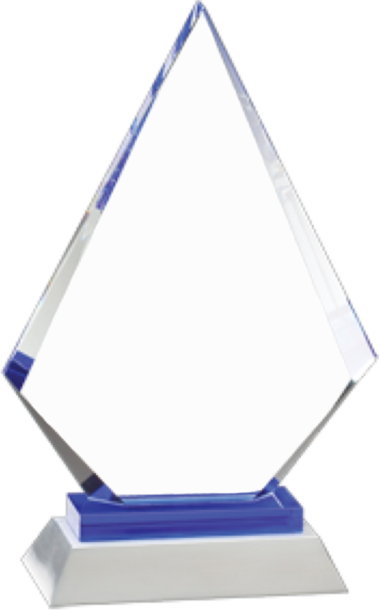 THE AWARD FOR
Excellence In Business Forecasting and Planning
Winners of this award are at the top of forecasting, demand planning and S&OP disciplines, displaying an exceptional level of insight, expertise and knowledge that progresses the field. Winners have a track record of establishing demand planning and forecasting as collaborative business processes or advancing the field through innovation of the latest techniques and methodologies.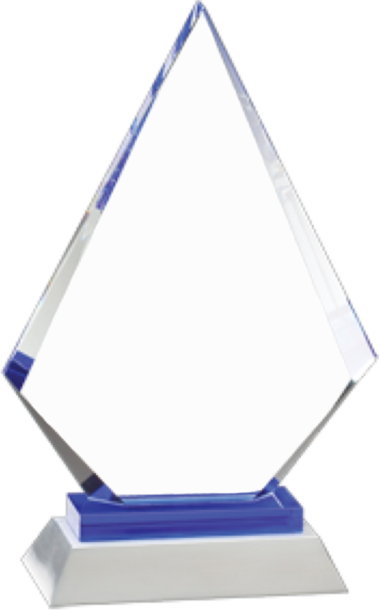 THE AWARD FOR
Lifetime Achievement In Business Forecasting & Planning
This award recognizes individuals in the forecasting, planning and S&OP fields who have consistently added value to the discipline over the course of their career. Winners demonstrate a long-term commitment to establishing forecasting and planning as key business practices and advancing the field. Winners are those at the top of the field who give back to the forecasting and planning community, and seek to develop the next generation.
Qualities a Nominee Must Posess

An Innovator in the field who has impacted the profession in terms of developing new capabilities or bringing new tools into the field. An individual who has innovated new ways to forecast and plan demand, improve work processes, measure performance, or establish collaborative processes.
A Thought Leader who has been published in recognized publications, regularly presents and gives back at industry events, and is commonly cited for his/her expertise

A World Class Practitioner that posses a clear track record of pursuing excellence in disciplines such as demand planning, forecasting, and S&OP. Someone who has demonstrated a sustainable positive impact to their business through people development, implementation of tools and/or work processes, and delivering sustainable positive business results.
A Practice Leader who has significantly contributed to the advancement of forecasting and planning knowledge and best practices. Someone who has expanded and grown the Body of Knowledge, while raising awareness for the field
Nomination
Nominations will only be accepted for 'Excellence In Business Forecasting & Planning' award.
Nominations for the 'Lifetime Achievement In Business Forecasting & Planning' award will be determined by the IBF.
A nomination should be a result of the achievements of an individual during his or her tenure as a practitioner either past or present.
In order to nominate, submit the completed nomination form below and email it to info@ibf.org before July 31 in order for the nominee to be eligible for the award in the same year.
Download Nomination Form
Award Selection
Winners of the award will be determined by the IBF and its board of Advisors. In order to be eligible for consideration nominees must be made in the first 2 quarters of the year in which the award is to be received. The announcement of the Winner will be made at the annual IBF's Best Practices conference scheduled October.
2022 Winners

Anne Omrod
CEO, John Galt
Lifetime achivement in Business Forecasting & Planning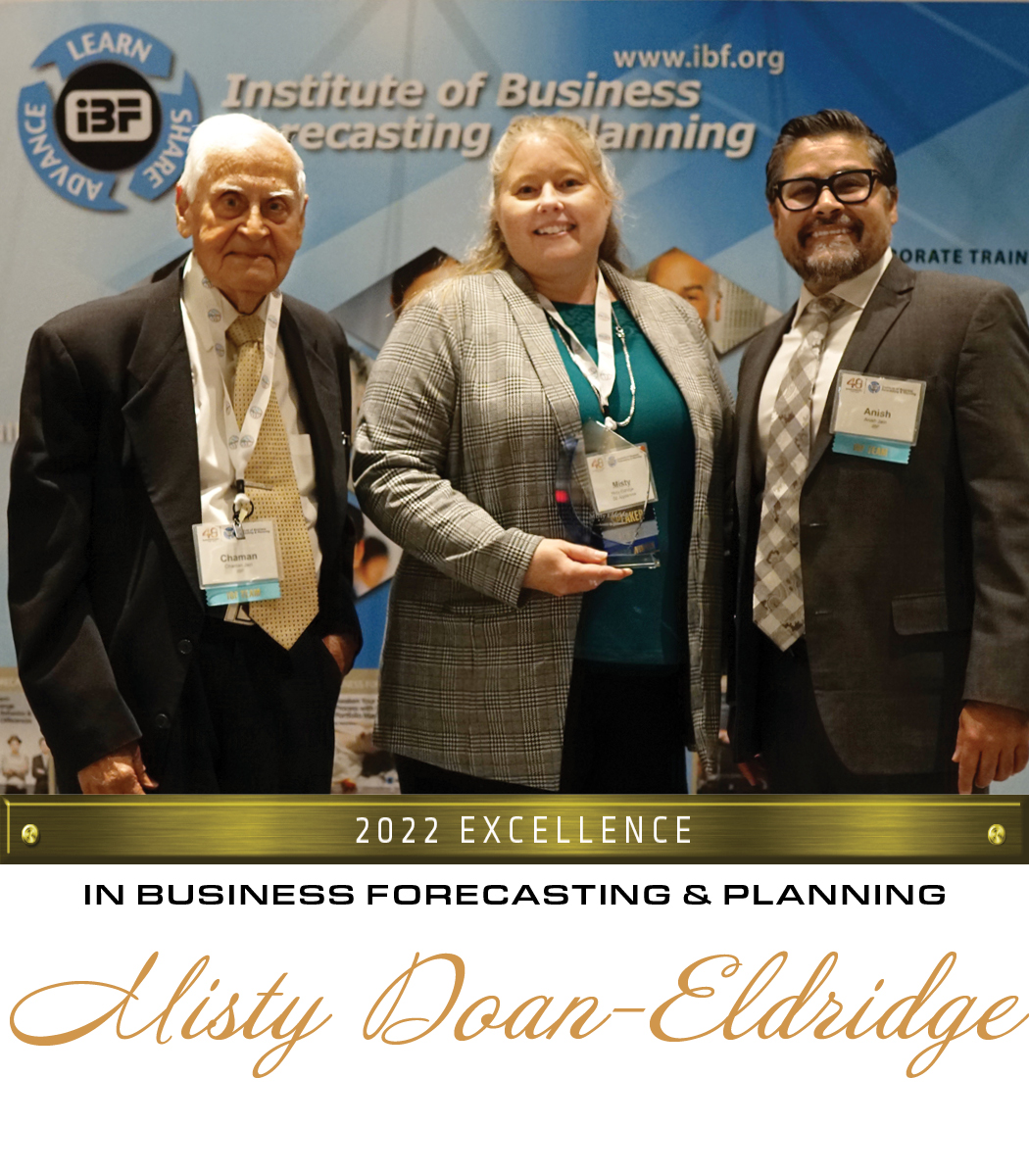 Misty Doan-Eldridge
Planning and S&OP leader
Excellence in Business Forecasting & Planning
View More
2022 Winners

Anne Omrod
CEO, John Galt
Lifetime achivement in Business Forecasting & Planning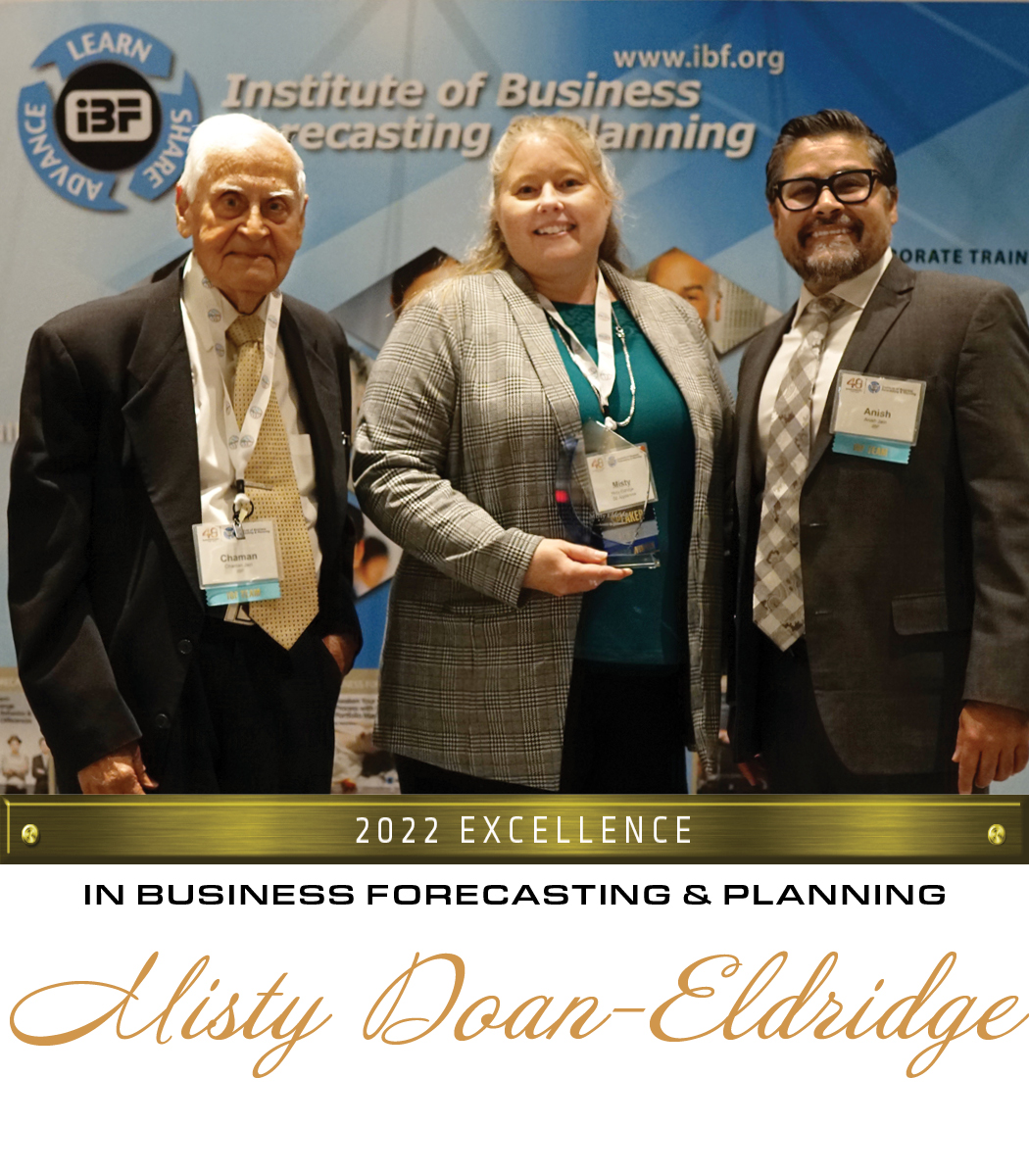 Misty Doan-Eldridge
Planning and S&OP leader
Excellence in Business Forecasting & Planning
View More
Want to nominate? Enter your email: