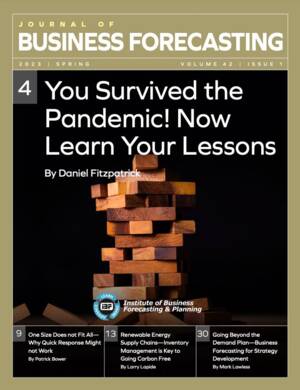 Subscribe To The Journal of Business Forecasting
The premier publication for the informed forecasting, demand planning, S&OP or analytics practitioner. Get it delivered to your home or office every quarter.
Subscribe to the Journal of Business Forecasting and get up-to-the-minute forecasting techniques and best practices from renowned leaders in the field. You'll also get in-depth interviews with industry experts and CEOs of some of the world's biggest companies. That's not to mention the most recent economic forecasts.
Subscribe Now! Choose your JBF Subscription below and click "Subscribe"