Hindsight is always 20/20, and with 2020 in the rear view mirror, there is much to be learned that will improve our demand planning in 2021 and beyond. Join myself and four senior planning leaders and learn how best-in-class companies are thriving in the current environment. They'll reveal what processes, techniques and methodologies they're using to balance supply and demand amid the complexity of shifting demand patterns, changing consumer behavior and multiple sales channels.
It is possible to thrive in the chaos. Focusing on S&OP, we'll give you practical, real-world advice that you can use in your organization for better demand planning, both today and into the future.
You will learn:
Balancing short term reactions with long-term planning
Best practices from companies embracing the new normal of ever-changing demand patterns
What to do with 2020 data and forecasting going forward
Lessons learned from 2020 that we can carry forward
What to you do when S&OP plans change the day after you set them
How to prepare our S&OP/IBP process for the next black swan event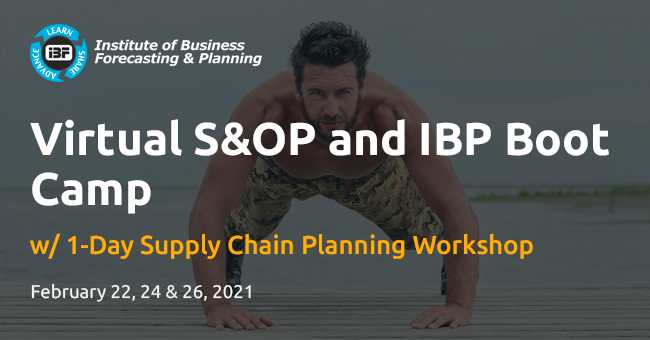 Join us on February 22, 24, and 26 for IBF's world-leading S&OP/IBP Boot Camp. Designed to make S&OP a reality in your organization, you'll learn the processes, techniques and methodologies behind balancing supply and demand within a structured, collaborative, planning forum. With Directors of Demand Planning and Supply Chain at multibillion companies as your instructors, you couldn't be in safer hands. Register here.

Cristian Circiumaru
Associate Director
Orchard Therapeutics
Cristian is a supply chain professional involved in designing and embedding top tier S&OP processes, including selection and deployment of supporting technology. With over 10 years experience in demand planning , business operations and manufacturing , he spent time in global footprint supply chain organizations such as RB , Seqirus and DeLaRue. As an early millennial he wants to make sure information and best practice is shared between the different generations of professionals and that Supply Chain continues to play an ever increasing important role, at the heart of business decisions in a transparent and sustainable way. Cristian holds a degree in business administration from the University of Bucharest, Romania.

Camila Sierra
Sr. Director, Global Planning
Converse
Camila is an experienced demand planning professional having served at Director and VP level in several demand planning and supply chain roles. She started her career as a Production Planner at L'Oréal, progressing to Production Manager, Director of Manufacturing Supply Chain, then VP of Global Operations. She is currently Sr. Director Global Planning at Converse. She holds a bachelor's degree in industrial engineering from Escuela de Ingenieria de Antioquia in Colombia, and a Master's degree in Industrial Engineering from NYU.

Eric Wilson, ACPF
Director – Thought Leadership
Institute of Business Forecasting & Planning
Eric is a predictive analytics and business planning innovator, author, and speaker. He is the Director of Thought Leadership at the IBF. Prior to this he worked as the Director of Demand Planning at Escalade Sports, Director of Demand Planning at Berry Plastics, and Director of Demand Planning & S&OP at Tempur Sealy International. In 2016, he received the Excellence in Business Forecasting & Planning award from the IBF. He is an IBF Advanced Certified Professional Forecaster (ACPF) with over 20 years of experience. Eric is a visionary in his field, a frequent speaker and panelist for many executive forums and professional conferences, and has written numerous articles in publications such as The Journal of Business Forecasting and APICS Magazine. He is also the author of the books Cultural Cycles and Predictive Analytics for Business Forecasting & Planning.

Wallace DeMent
Demand Planning Manager
Pepsi Bottling Ventures
Wallace has been with Pepsi Bottling Ventures since its formation in 1999. He has served in such roles as Warehouse Supervisor, Logistics Coordinator, Production Planner and Production Planning Lead. He began his current role in 2008. His responsibilities include developing and maintaining full goods forecast for PBV Operations, creating and maintaining metrics to ensure continuous forecast improvement, forecast analysis of new products, financial and operations data analysis, and acts as a department representative and liason to the sales, marketing, and operations teams. Wallace holds a Master of Arts degree from Full Sail University in Orlando, FL.