*THIS IS A VOIP ONLY SESSION.*
You will need a headset or computer speakers to hear audio.

In this webinar you will learn how an integrated S&OP framework can cover all of your demand channels such as in-store sales, e-commerce, wholesale, 3rd party marketplace and others. This can become the heartbeat of your organization providing a viable plan the whole company can work towards, allowing you to integrate the topline sales dimension with all aspects needed to physically execute your processes, production and volume plans. This webinar will also outline how a longer horizon demand plan can be used to drive necessary changes to your physical operating infrastructure to optimize your service levels while also controlling your costs. Last but not least I will reveal Target's own approach to integrated company planning frameworks – I'll show you how to identify systemic constraints which hamper operational excellence and how to manage the trade-off between capital vs. operational expenditures.
You will learn:
Introduction to S&OP in the context of Omnichannel Management covering physical networks, data and demand planning, and integration needs
To develop an omnichannel S&OP framework that enables supply chain flow execution management
How predictive data analytics sets your foundation not only for your internal inputs but also external drivers (economy, hyperlocal market disposition, customer/consumer sentiment, etc.)
Drive guest/customer centric metrics such as Out of Stock/In Stock, availability etc. while having an operational plan in place with defined cost, safety and productivity goals
Hear Tim speak at our upcoming Leadership Business Planning & Forecasting Forum on October 21, 2019 in Orlando, FL!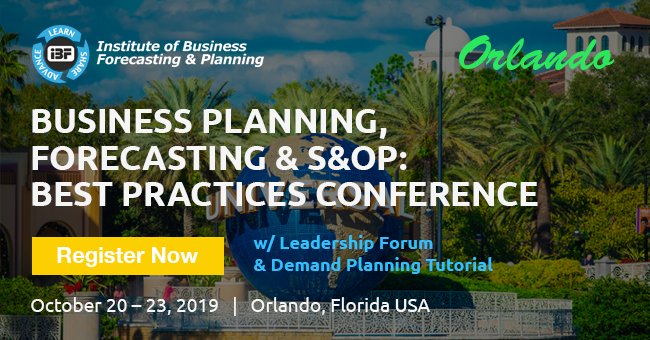 Tim Hotze
SVP Global Network Planning and Global Intelligence
Target
Tim Hotze is Senior Vice President, Network Planning and Global Intelligence for Target. He oversees Target's future Supply Chain intelligence products as well as end-to-end operational functions for Network and Topology Planning, S&OP, and Guest Order and Availability Management. Before joining Target in November 2017, Tim held a number of leadership roles at Amazon covering Supply Chain Execution, Capacity Planning and Management, Inventory Placement and Labor Planning. He also spent more than a decade at Panalpina World Transport where he had responsibility for worldwide logistics and Supply Chain solutions as well as innovation management. He sat on the board of The Warehouse Education and Research Council and currently sits on the Advisory Board for the Institute of Business Forecasting and Planning (IBF). Tim holds a joint Master's degree in Industrial Engineering, Logistics and Supply Chain from the University of Technology in Darmstadt (Germany).