Join this townhall and learn from leading experts how demand planning, S&OP, and FP&A work together to drive superior business performance. You'll hear leading finance and planning professionals reveal their secrets to success in improving forecasting, cash flow modeling, budgeting and integrated planning. If you're a finance/FP&A professional, this is your chance to learn how collaborative planning will help you do your job better. And if you're a demand planning/supply chain professional, you'll learn how finance fits into the S&OP/IBP process.
You will learn:
How to improve cash flow modeling
How demand planning, S&OP, and FP&A work together for superior business performance
How to update budgets and operating plans, keeping them relevant
Leveraging data and forecasting to gain more insights  
The organizational silos that exist and how to break them down
Virtual Financial Forecasting, Planning & Budgeting Conference
If you find this town hall valuable, IBF's Virtual Financial Forecasting, Planning & Budgeting Conference is a must-attend. It's designed for Finance, FP&A and all other planning professionals looking to drive value in their organization through improved financial forecasting and collaborative planning. Gain practical insight into forecasting best practices, Finance's role in S&OP/IBP, and the core concepts and processes underlying S&OP/IBP. You'll come away with the knowledge to drive enterprise-wide benefits including improved P&L forecasts and operating performance forecasts, balancing supply and demand, inventory management, operational efficiency, and more. Book before May 14 and pay just $299.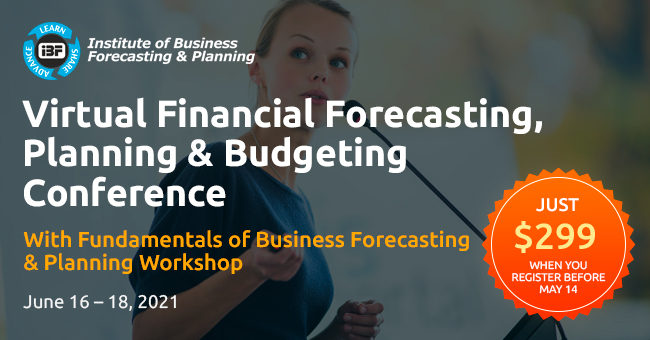 Hariharan Padmanabhan
Lead Analyst - S&OP Digital
Target
Hariharan has worked in the supply chain management and technology space for over 10 years. He started his career at Amazon, joining their Operations Management Leadership program, before joining Target where he managed S&OP, planning and forecasting. Hari is a 'Data Evangelist' and has handled several data-focused projects in the retail world which leveraged data and system capabilities to drive informed business decisions. He holds a degree in Computer Science Engineering and an MBA in Supply Chain management, as well as certifications in quality, production and inventory management.

Muhammad Zaman
Vice President, Planning and Analytics, Americas and Pacific
Hasbro
Muhammad has 20-plus years' experience in supply chain management with core expertise in global supply chain transformation within the disciplines of demand, supply, allocation planning, and analytics. He holds subject matter expertise in forecast accuracy improvement, fill rate improvement, inventory optimization, systems implementation, consumer-facing analytics and insights. Having worked at Continental, Hasbro, American Apparel and more, Muhamad has led transformations at billion dollar companies through supply chain overhaul with a focus on people, process, and tools.

Sam Hanieh
Director, Supply Chain
Signode
Sam is a Supply Chain leader who, over the past few years, has led Supply Chain teams responsible for Customer Service, S&OP, Inventory, Distribution, and Analytics. Sam started his career in planning and supply chain at Hub Group where he worked in various analyst roles, before becoming Logistics Systems Manager. He then moved to a supply Chain manager role at Panduit where he led the S&OP process. He is now Supply Chain Director at Signode, a multinational manufacturer of steel and plastic strapping. Here he leads the Supply Chain team, focusing on S&OP, Inventory, Warehousing, Logistics, and Analytics. He is also an adjunct professor at St. Francis University. He holds a degree in Business Administration of the University of Chicago and an MBA from Saint Xavier University.

Mark Lawless, ACPF
Senior Consultant
Institute of Business Forecasting & Planning
Mark has held senior management and C-level positions at several companies across multiple industries. His experience covers manufacturing operations, product development, sales, finance, and marketing. Mark is a long-time affiliate of the Institute of Business Forecasting, having served in advisory roles and delivering training to many companies worldwide. He is the recipient of IBF's 2016 Lifetime Achievement in Business Forecasting & Planning Award. He holds an undergraduate degree in Economics, and graduate degrees in Economics, Finance, and Accounting from Southern Illinois University (Edwardsville), Washington University (St. Louis), Boston College, and Bentley College. He is an IBF Advanced Certified Professional Forecaster (ACPF).