Why The S&OP Process Needs A Dedicated E-commerce Team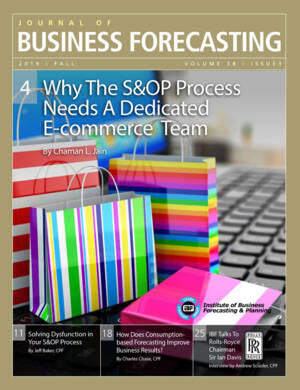 Fall 2019
Journal of Business Forecasting Volume 38 | Issue 3 | Fall 2019
Is your S&OP adequately managing eCommerce demand? The answer is probably not. This issue of the Journal features Dr. Chaman L. Jain putting forward the case for updating S&OP to include a dedicated eCommerce team. He offers insights to understand the unique demand drivers in online retail and how companies should approach order fulfilment in the age of omni-channel. He reveals the differences between brick and mortar and eCommerce you need to know about, and how your S&OP can (and must) adapt.


IBF Talks To Rolls-Royce Chairman About Planning & Forecasting
That's not all – in this issue we speak to Rolls-Royce chairman Sir Ian Davis about how this aerospace giant approaches forecasting and planning, and how it manages its many complex supply chains. Sir Ian also shares candid views on Big Data, Millennials, and what it takes to get to the C-suite today.
Other highlights include an interview with Dr. Eric Siegel, author of Predictive Analytics: The Power to Predict Who Will Click, Buy, Lie, or Die , and the host of the Dr. Data Show on YouTube. Eric reveals what predictive analytics is, how it differs to traditional forecasting, and how companies can start leveraging this technology today.
Featured Articles: