We will discuss the merits and relevance of predictive analytics and intelligent forecasting in today's and tomorrow's demand planning environments. In this free-to-attend interactive townhall, top thought leaders will answer your questions and examine the pros and cons of the technology now available. We'll dive into the tools, methods and data and compare them more traditional forecasting techniques.
You will learn:
How machine learning, intelligent forecasting and other technologies are changing demand forecasting
The core concepts underlying the revolution in forecasting and demand planning
Which industries are leveraging Intelligent Forecasting
How to use predictive analytics to improve forecasting and become more responsive to true demand
Whether you need to be a data scientist to leverage predictive analytics, and if it is a good use of a planner's time
The impact of predictive analytics and Intelligent Forecasting on the Supply Chain and other functions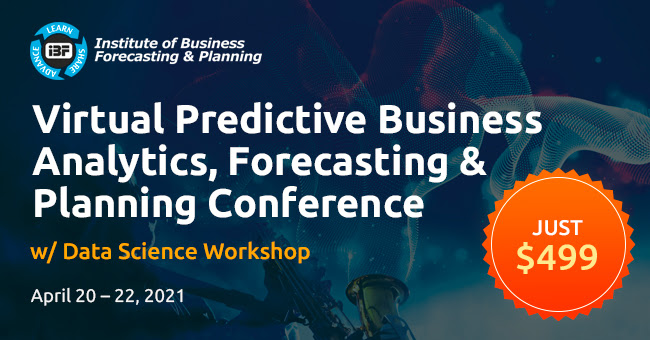 IBF's Virtual Predictive Business Analytics, Forecasting & Planning Conference with Data Science Workshop is your opportunity to leverage advanced analytics and turn the vast amounts of data you hold into improved forecast accuracy and actionable insight. Learn more.

Fazlur Rahman
Senior Manager - Global IBP and Demand Planning
Kraft Heinz
Fazlur Rahman is responsible for Global IBP and Demand Planning at Kraft Heinz Food Company at its Global Center of Excellence in Amsterdam, Netherlands. Kraft Heinz is the fifth largest food and beverages company in the world. Fazlur leads the global planning projects, and currently leading o9 implementation. Previously, Fazlur was responsible for Logistics Analytics and Demand/Supply COE for the Kraft Heinz US business based in Chicago, IL.
Fazlur has an MBA degree from Duquesne University. Fazlur has given professional seminars at APICS and IBF Conferences, and currently serves in the Editorial Board of Journal of Supply Chain Management, Logistics and Procurement.

Patrick Bower
Sr. Director of Supply Chain
Actylis
Patrick Bower has a wide area of expertise, including S&OP, Demand Planning, Inventory, Network Optimization, and Production Scheduling. A recognized expert on demand planning and S&OP, and a self-professed "S&OP geek" - Patrick was previously Practice Manager of Supply Chain Planning at the consulting firm, Plan4Demand where his client list included Diageo, Bayer, GlaxoSmithKline, Pfizer, Foster Farms, Cabot Industries and American Girl. Patrick's experience encompasses tenures with Cadbury, Kraft Foods, Unisys, and Snapple. Patrick also worked for the supply chain software company - Numetrix, and was Vice President of R&D at Atrion International. He was also the recipient of IBF's 2012 award for Excellence in Business Forecasting & Planning.

Rich Wagner
CEO
Prevedere
As president and Chief Executive Officer at Prevedere, Rich helps companies to look beyond their own walls for key external drivers of financial performance. Utilizing millions of global metrics from data powerhouses like Nielsen, NASDAQ and the Federal Reserve, Rich has uniquely positioned Prevedere as a complementary solution to existing forecasting platforms by correlating external economic factors to corporate performance. Under Rich's leadership, Prevedere has been named a "Cool Vendor in Information Innovation" by Gartner and an FP&A Innovation Awards winner in Forecasting and Planning.