It's Coming, So Get Ready: Demand Planning During An Economic Recession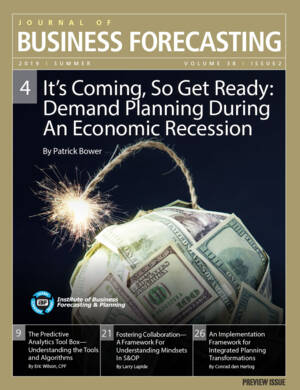 Summer 2019
Journal of Business Forecasting Volume 38 | Issue 2 | Summer 2019
The lead article of this issue deals with the anticipated economic slowdown and how to manage demand in such an event, written by a director of demand planning who has seen multiple recessions during his career. Pat Bower offers practical advice on how to plan before recession hits, and how you can gain insight into how your consumers will react by digging into your own data. He also reveals how to know which specific economic indicators affect which products, allowing you to anticipate impact on specific SKUs ahead of time, and how to use predictive analytics to correlate your demand curve with different severities of economic downturn.
We don't know when the next recession will hit, or how severe it will be, but we know it's coming - this could be the most important article you ever read as a demand planner, forecaster or S&OP professional.
Other highlights of this issue include a comprehensive guide to predictive analytics algorithms and tools which will help forecasters and data scientists succeed in the age of AI, as well as some potentially groundbreaking ideas on how programmatic advertising can be connected to demand planning systems allowing for real time e-commerce demand shaping.
Featured Articles: