Forget the future, the here-and-now of demand forecasting is exciting and represents an immense opportunity for forward-thinking companies. Join demand planning and supply chain leaders from Mars, SLB and Takeda in a discussion about how new technology and advanced analytics are changing demand forecasting for the better. Far from being left behind, our experts will reveal practical approaches to exploit your data, drive forecast accuracy, and gain real competitive advantage.
You will learn:
How machine learning, AI and other technologies are bringing exciting change to demand forecasting
How to lead teams effectively in this new age of demand planning and analytics
What the future holds and how our field is adapting
Predictive Business Analytics & Forecasting Conference - New Orleans
IBF's Predictive Business Analytics & Forecasting Conference is where companies get out of Excel and into advanced analytics. You'll learn how to use cause-and-effect models and machine learning to fully leverage the data your company holds. Early Bird Pricing is open until March 23. Register here.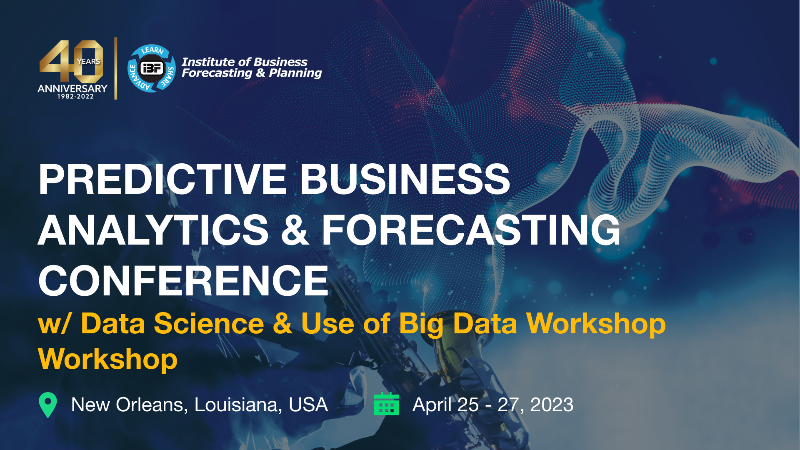 Sowmya Kumar
Sr. Data and Applied Scientist - Azure Supply Chain
Microsoft
Sowmya is a passionate data science leader with industry experience developing machine learning models at scale in production from inception to business impact. She was the founding member of data science team at Microsoft Devices, building strategic data science roadmaps and successfully executing them for multiple years with strong business impact and now part of Data science at Azure Supply Chain. She developed deep learning and machine learning modules for solving the demand-supply inventory forecast, customer level forecasting, labor optimization problems that handles seasonality, transition/ new products, marketing-promotions etc. She has experience brining applied science into different aspects of Marketing, Supply Chain & Retail. Prior to Microsoft, she was at Starbucks and was part of data science team in marketing where she was part of building customer segmentation for targeting offers to drive revenue, A/B experimentation to drive revenue and customer engagement.

Rym Khelil
Division Sales and Operations Planning Manager
SLB
Rym has extensive expertise in planning and supply chain with an industrial engineering background. She currently manages Schlumberger's Well Construction Division S&OP process at a global scope covering $9bn in revenue and 28,000 employees. Rym has 15 years' experience within Schlumberger, having worked in various roles in planning and supply chain and across multiple segments and location including France, the UK and currently the US. Prior to her current role, she was supply chain manager for the Schlumberger Drilling Bits business. Rym has an advanced knowledge in strategic planning, Sales and Operations Planning, resource management, inventory management, distribution, logistics, category strategy, demand management, sourcing, supplier quality, and supplier management. She holds a degree in Industrial Engineering from the National Polytechnic School in Algiers and a masters' degree from Ecole Central de Paris.

Gerald Verno
Director of Supply Chain Planning and Analytics (SCPA)
Washington Metropolitan Area Transit Authority (WMATA)
Gerald is the Director of Supply Chain Planning & Analytics at WMATA. His team is responsible for ensuring sufficient levels of materials for the WMATA maintenance groups, using best practices in forecasting, S&OP, and inventory management. The team also manages data governance and analytics for the entire supply chain, working with the procurement department to source materials globally to support the 8th largest transit agency in the United States. Gerald holds a degree in Business from Queens College, NY, and several supply chain certifications from ASCM and is also the President of the DC Metro ASCM Chapter.

John Hellriegel, CPF
Sr. Advisor/Facilitator
Institute of Business Forecasting & Planning
John is a Senior Supply Chain and Demand Planning, CPF leader with over 25 years of experience across multiple industries. He is currently an Adjunct Professor at Rutgers University. He has worked across industries for companies such as Estee Lauder, Honeywell, Diageo, Pepperidge Farm, Accenture, and GE. John has worked in demand planning, inventory optimization, capacity planning, deployment planning, and SIOP development. John is passionate about developing people within companies to lead change. John lives in Mendham, New Jersey with his wife and two boys.

Danny Stout
Global Head of Forecasting, Pricing and Analytics
Takeda
Danny W. Stout, Ph.D., Head of Global Forecasting, Pricing and Analytics for BioLife, is responsible for building, recommending, and driving strategic goals in relation to long-range organization planning as well as structural creation and oversight of forecasting, pricing and analytics models that support and maximize long-term growth plans for BioLife at Takeda. Danny received his doctoral degree from Oklahoma State University in the Research, Evaluation, Measurement and Statistics program in Educational Psychology. Prior to Takeda he worked in data scientist and enterprise sales engineer roles at StatSoft, Dell, Quest and TIBCO.