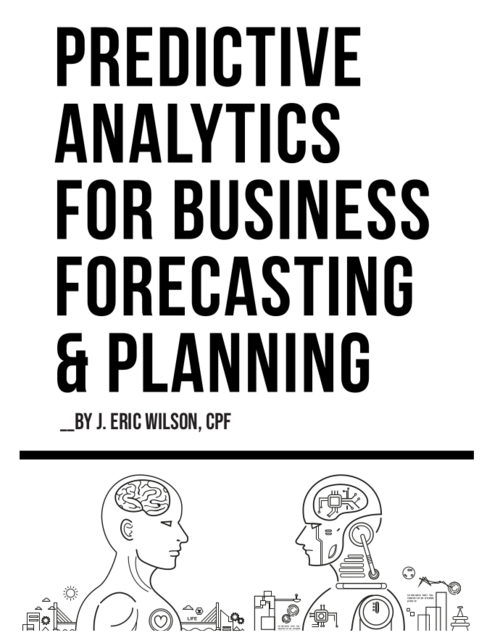 Download Table Of Contents
Predictive Analytics for Business Forecasting & Planning
This groundbreaking book is designed for professionals looking to add value in the new era of demand planning and predictive analytics. In the age of Big Data where companies produce data in ever-increasing amounts, in a variety of formats, and from a multitude of sources, predictive analytics is the competitive differentiator of tomorrow.
Eric Wilson introduces you to the predictive analytics techniques, methodologies, and technologies that forecasting, planning and data science professionals can use to turn data into useful insight. This book underscores the critical role that these innovations are playing and how you and your team can leverage them to drive business value.
Offering a complete overview of the latest demand planning, business forecasting, and predictive analytics concepts and applications, this book is the perfect guide for professionals who want to improve their skills for Demand Planning 2.0.
Testimonials From Demand Planning Leaders
"Predictive analytics is the most important business topic of our time, extending an organization's ability to optimize efficiency while improving speed to market. Eric Wilson is one of the industry's top experts with the ability to translate complex topics into simple language. This book is a must for all business innovators and practitioners." Joe Eschenbrenner ACPF, Director, Demand & Supply Planning, PUMA Group.

"Most works on predictive analytics discuss esoteric algorithms and techniques, all too often focusing on buzzwords instead of how practitioners can benefit from their use. Eric Wilson covers all these in everyday English. He reveals how these revolutionary models and techniques work within the context of their practical use, and the business processes needed to support them. This book is a must for anyone looking to capitalize on the deluge of data now available to organizations." Dr. Larry Lapide, Research Affiliate, MIT Center For Transport & Logistics

"Cause-and-effect techniques have transformed business forecasting and analytics. Eric Wilson's book is your guide to where forecasting has been and where it is now, describing all of the major advances and tools that forecasters now have at their disposal. This overview of the science of prediction prepares practitioners for the future of planning and business analytics." Dr. Barry Keating, Professor of Business Economics & Predictive Analytics, University of Notre Dame

"Integrating predictive data analytics and scalable new techniques is the future of demand planning. Eric Wilson outlines in an easy-to-understand manner the key concepts of predictive data analytics and how these can be integrated into your existing planning for enhanced forecast accuracy and deeper insights into your business." Tim Hotze, SVP, Global SCM & Logistics, Network Planning & Global Intelligence, Target.

"In this groundbreaking book, Eric Wilson lays down the foundations of forecasting predictive analytics. It will enable you to understand your demand drivers and lay out scenarios for better demand planning, and in the process give you a massive competitive edge." Nicolas Vandeput, author of 'Data Science For Supply Chain Forecast'.

"Eric takes advanced concepts and makes them easy to understand. By using a practical approach and clear language, he is able to show how one can apply advanced techniques to real business. There is so much insight here, you can go back to this book again and again." John Hellriegel CPF, Professor, Rutgers Business School"

"Predictive Analytics for Business Forecasting focusses on the use of predictive analytics for demand planning and forecasting. The author very effectively uses business vignettes to illustrate the concepts that are described in this book. The author does not get bogged down with the technical details of the advanced statistical methods and AI that are described. Instead, this book is a breath of fresh air focusing on the uses of these methods and concepts. In summary, this is a wonderful book that will take pride of place on my bookshelves." Simon J. Sheather, Dean, Gatton College of Business & Economics