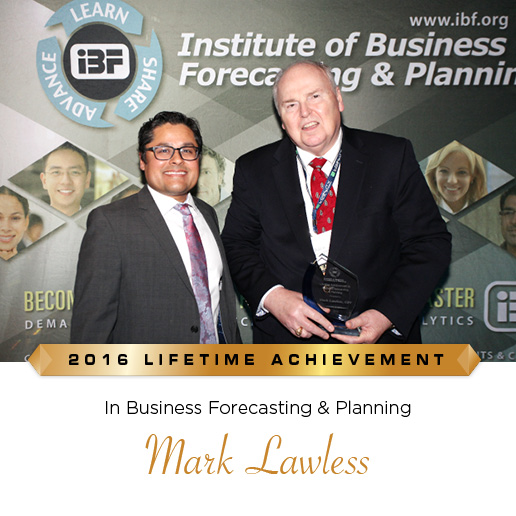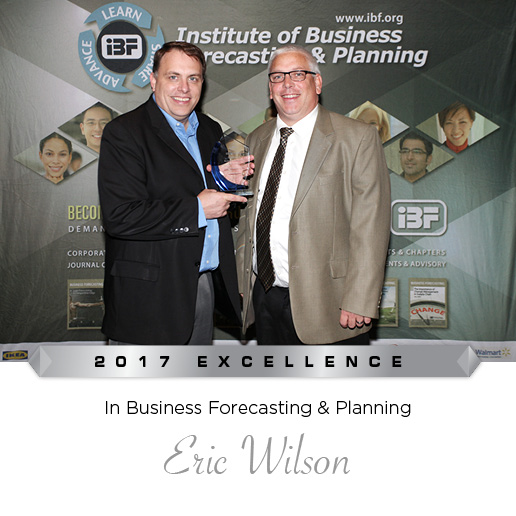 2016 Lifetime achivement Winner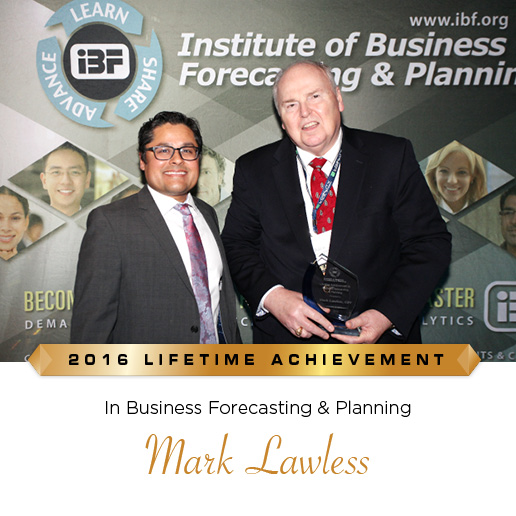 Mark Lawless (Right)
Managing Principal at Marlaw Business
has been honored as the IBF's 2016 "Lifetime Achievement in Business Forecasting & Planning" recipient for his excellence, professional commitment, and dedication to advancing the field.
Anish Jain, Managing Director, IBF (Left) on honoring Mark Lawless:
It's an honor to award Mark Lawless with IBF's Lifetime Achievement award. Mark has been supporting the forecasting community for many years, even before the IBF was officially created. He has been and continues to be a significant contributor to the field as well as the IBF. Mark has published many articles in the IBF's Journal of Business Forecasting (JBF), sharing his thought leadership, while also reviewing articles submitted for the publication too. Mark has provided valuable input in the initial development of IBF's body of knowledge that drives our certification, research, and training programs. He continues to provide valuable insight and thoughts on improvement, enabling forecasting and planning professionals to succeed and stay current in today's difficult business climate. He is a frequent speaker and teacher at IBF conferences and tutorials sharing his passion, knowledge and expertise. He was previously our regular chairperson for IBF's Best Practices Conferences too. Mark has also employed the IBF Body of Knowledge as a framework for the development of planning processes within the many companies he has served. His expertise and passion has been an incredible influence on not only the IBF and myself, but the entire forecasting community. It gives me great pleasure and honor to award our 2016 Lifetime Achievement Award in Excellence in Business Forecasting & Planning to Mark Lawless.
Mark Lawless on receiving this honor:
I am truly honored to be the recipient of the Lifetime Achievement Award in Business Forecasting and Planning. The IBF has been a very important organization for me throughout my professional career. It has been a source of professional information, knowledge, networking, and ideas. It has afforded me the opportunity to publish in the Journal of Business Forecasting, a professional journal that I have relied upon for over 30 years. I have always been deeply interested in business forecasting and planning, and the lifetime achievement award from the IBF is one of my proudest moments. We are fortunate, we are practicing our profession at a time where we are empowered by business tools and resources that are better than ever before. We have technology that enables us in our search for more data and information, more analytics, and faster application of more sophisticated methodologies. We are living in an era of big data and predictive analytics. We have applications software for forecasting and planning that is the most sophisticated and most user friendly ever available. This is a most exciting time for all business forecasters and planners! And I am happy to be a part of it.
2016 Excellence Winner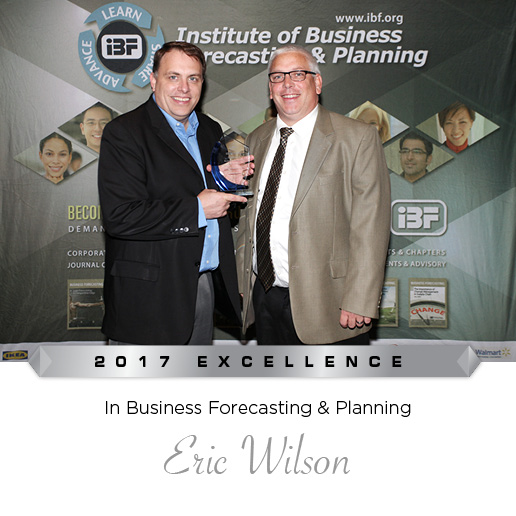 Eric Wilson (Left)
Director of Demand Planning at Berry Plastics
has been honored as the IBF's 2016 "Excellence in Business Forecasting & Planning" Award
Jeff Marthins (Right), Director of Supply Chain Operations at Tasty Baking Company/ Flower Foods & 2015 Excellence in Business Forecasting & Planning Award Winner on honoring Eric Wilson:
Eric Wilson's contributions to the demand planning and forecasting field can't be measured using calculations. However, looking at his contributions and talking to people in the industry, you quickly realize that his effect is immeasurable. Eric was with Tempur Sealy for 10 years. During his time with the company, he established, developed, and grew a very strong demand planning process and S&OP process. His thought provoking ideas lent him to make contributions by the way of writing several articles including cover stories for the IBF's Journal of Business Forecasting. Eric has left his position to join Berry Plastics where his leadership will certainly have a positive effect on their process. Eric's biggest contribution is his passion. After spending some time with him, you immediately are energized to the field of demand planning and forecasting. Eric speaks regularly at IBF conferences, sits on advisory boards for universities and the IBF, spends time with his family, and still offers his time to assist others in the field. Personally, Eric has had a great influence on developing my career and leadership. It is truly my honor to present him with his award as his colleague and friend.
Eric Wilson on receiving this honor:
In a profession where you are always wrong, it is good to know I must have done something right. I am extremely honored to know I was nominated by my peers and humbled beyond belief that fellow practitioners voted to make me this year's recipient of such a prestigious award. I truly feel that I am standing on the shoulders of all of the prior award winners and those that have blazed the path in our field. People such as Dr. Jain that has taught me so much and challenged me to think and Anish who has been such a voice for our field and champion of our cause. To you and so many others I thank you personally and you own a piece of this year's award in forging my abilities and giving me opportunities. So in many ways I share this with everyone and thank you for allowing me to represent your hard work, efforts, and knowledge this year.
Want to nominate? Enter your email: